About Us
Glen-Revis Fabrics is a family business operating as Agents and Distributors within the textile industry and we have been in business for fifty years, the company being formed in 1972. During this time Glen-Revis has represented various overseas producers of quality fabrics in the UK, selling into the major manufacturers of Ladies, Men's and Children's wear, and more recently the Home Furnishing and Soft Furnishing markets and Interiors primarily with contract screen fabrics.
The company is located in the village of Shelley, Huddersfield. This is a central location useful for Leeds, Bradford, Manchester, Sheffield and all major northern cities and towns and being close to the M1 and M62 national motorway networks.
The business consists of two areas;
Firstly as Distributors our primary focus being Alcantara®, an innovative material based on a proprietary technology, yet unrivalled, which is a registered trademark owned by Alcantara Spa. Glen-Revis Fabrics are authorised distributors of Alcantara® and we have represented Alcantara Spa since 1988. We carry stock of Alcantara® here in the UK so we can offer our customers a quick and efficient service and due to our excellent long standing relationship with Alcantara Spa anything we do not have we can turn around with very short lead times, this is something that is very important to us.
Secondly as Agents we represent a Spanish company within the United Kingdom, they are producers of quality upholstery, soft furnishing and curtaining fabrics for the home furnishing market. The other being an Italian company who are producing contract blackout and screen fabrics for use in commercial buildings.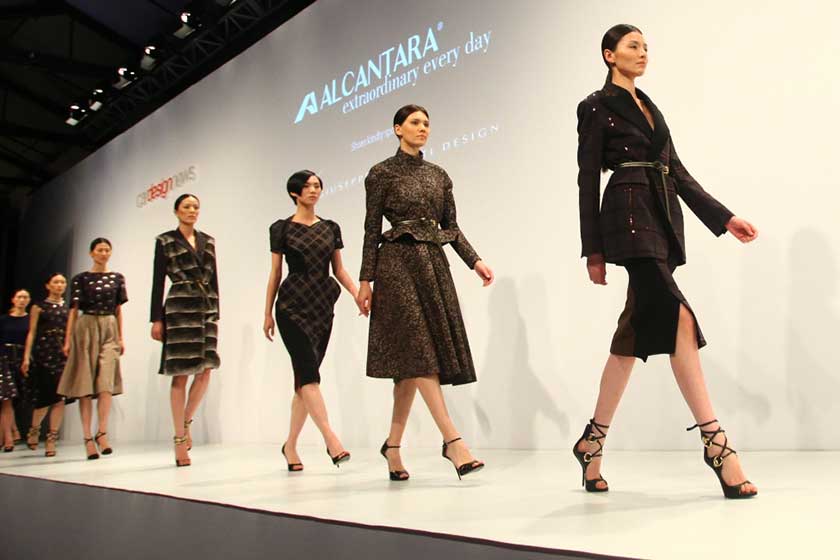 Alcantara® combines softness, elegance, rich colour with high resistance to wear and tear and incredible ease of maintenance. It is perfectly suited to innovative, prestigious applications in fashion and clothing accessories, interior design and car and marine upholstery. Alcantara® is extremely easy to work with, it does not fray and can be manipulated to follow complex contours often found in modern interiors, cars, yachts and aircraft.
We have been working with Alcantara Spa for 34 years now so have a very good working relationship with the company and have an extremely good working knowledge of the Alcantara® range of products. There are numerous thicknesses and qualities within the Alcantara® range, there are many different designs that have been printed or laser etched onto Alcantara®, as well as the standard Vision range of punched Alcantara® there are examples of laser cutting, which produces some wonderfully delicate designs.
Please do contact us for anything that you are looking for as we are more than happy to help and due to our long working relationship with Alcantara Spa they are always pleased to assist in meeting any of our requirements.
You currently have JavaScript disabled. This site requires JavaScript to be enabled. Some functions of the site may not be usable or the site may not look correct until you enable JavaScript. You can enable JavaScript by following this tutorial. Once JavaScript is enabled, this message will be removed.