Cleaning & Maintenance
General Maintenance
It is recommended that to maintain the natural look of Alcantara® regular cleaning should be carried out. It is sufficient to use a soft brush, a dry cloth or a vacuum cleaner where necessary. On occasion you may wish to run a lightly moistened cloth over it.
Cleaning Instructions
Alcantara® is extremely easy to clean, wash by hand, in the washing machine or dry clean.
Hand Washing – Use lukewarm water and neutral soap, do not wring or tumble dry. Drip dry in the shade.
Washing Machine – Wash at 30 degrees C with a mild detergent. Do not tumble dry.
Dry Cleaning – use only perchloroethylene, do not bleach. Direct contact with steam machines should be avoided
Ironing – when ironing use a clean cloth between the iron and the Alcantara® and steam iron adjusting the temperature to Rayon or Synthetic.

Stain Removal
act immediately
reduce the stain by working from the edge towards the centre, in order to avoid spreading
gently remove most of the dirt using a knife or spoon and blot immediately with a clean white cloth once the stain has been spotted, act in accordance with the instructions in the table
if using a solvent, never apply directly to the stained part but on a clean cloth
after applying the stain remover, remove with a clean, dry cloth, then brush in the opposite direction to pile lay
leave it to dry
when dry restore pile with a soft brush
Spots are easy to remove, just follow the instructions in the spots removal table: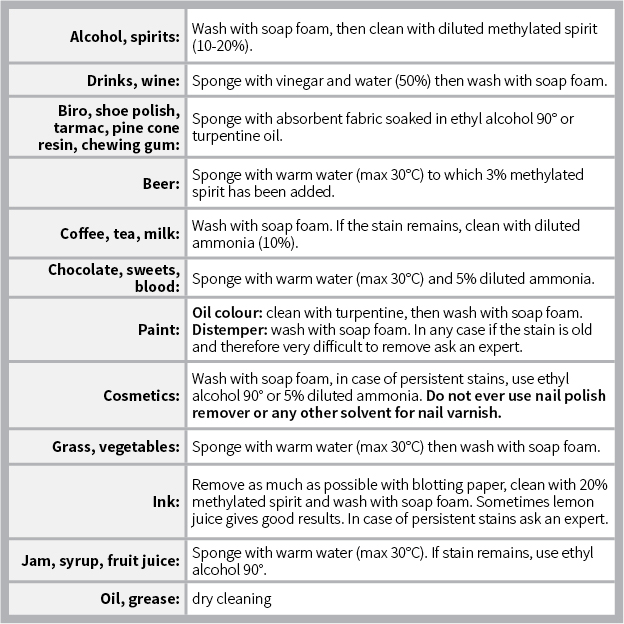 You currently have JavaScript disabled. This site requires JavaScript to be enabled. Some functions of the site may not be usable or the site may not look correct until you enable JavaScript. You can enable JavaScript by following this tutorial. Once JavaScript is enabled, this message will be removed.