Technical Data
Alcantara® is made from extremely fine polyester microfibres, 40 to 50 times finer than cotton and 200 to 300 times finer than wool, with a denier count never achieved before (0.17 dtex).
The quality and characteristics of the finished product are all due to this very fine and unique denier count which is obtained by a highly sophisticated extrusion process of the polymer.
The fibre is so fine that thousands of metres weigh only a single gram. The polyester fibre which is the basic material in the production of Alcantara® is cut into a countless number of segments which then undergo processing in special carding machines to form a soft felt some 10cm thick. The particular cloth-like appearance is acquired after a process of needle punching and treatment with a special agent. The 'greige' is then subjected to a special dyeing treatment which is the last stage in the production cycle prior to finishing.
Certificates
Alcantara ®'s quality has been endorsed by two important certifications: Certitex and   Oeko-Tex. Certitex attests that Alcantara ®'s quality control systems meet international norms. Oeko-Tex, awarded by the Hohenstein International Institute, certifies that Alcantara ® products are absolutely safe for contact with the skin.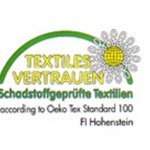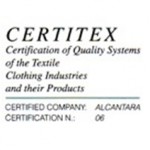 Carbon Neutrality
Being Carbon Neutral means having a net balance of greenhouse gas emissions equal to zero. Among the first companies in Europe to do so, Alcantara achieved this ambitious goal already in 2009, obtaining the much-coveted Carbon Neutrality certification from one of the most severe and strict international certifying bodies: TÜV SÜD.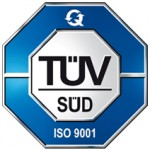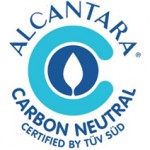 You currently have JavaScript disabled. This site requires JavaScript to be enabled. Some functions of the site may not be usable or the site may not look correct until you enable JavaScript. You can enable JavaScript by following this tutorial. Once JavaScript is enabled, this message will be removed.